We had a little parade going on in our living room for Tuesday Whitt.

We enjoyed spending time and having fun in memory of Tuesday. I don't think my boys quite knew what was going on, but they had fun doing a parade with the toys!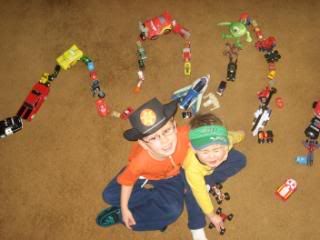 They had to wear their hats of course, since it was a special occasion! (We were going to go for a walk, but colds and cold weather didn't permit)

Then we had a picnic! Our smiley-face taters were definitely tanned well! lol..



They definitely enjoyed their dinosaur chicky and smiley fries.

It felt good to know that others all around were praying and having their own special time for Tuesday.

I pray the Whitt family is graced with peace and loving family to get through this time.