Yes. I'm Satan.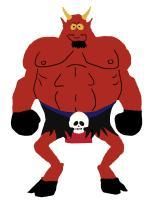 At least I feel like Satan.

I woke up feeling completely and totally EVIL.

No, it's not that time.

I think it's a mixture of trying to run a household, raise to boys, work full time, and then figure out how I'm going to throw school into the mix.

Yup. I'm a bit worn out.

I feel awful when I feel like this.

I yelled at the boys this morning a bazillion times (hubby had to work EARLY so I had them all to myself).

Now I have Aladdin on for Cole so I can have some 'me' time on the computer.

I bit Carl's head of a few dozen times this morning before he left. Then cursed his name when I found out he did NOTHING last night while I was at work. The load of laundry I put in the wash, still there this morning.

*sigh*

He helps quite a bit around the house, but not when I need it the most. Know what I mean?

I'll be better tomorrow. This is how I am when there's no freaking sunshine in Ohio.

I need me some freaking sunshine.

Have a nice day.

Yes, I'm still Satan.