Yay! Another Giveaway that I *must* have!!

(no really, I'm in dire need of a new purse!)

Aubrey over at The Fam Five is having a Girly Giveaway!

What is she giving away, you ask?

A purse made by Hannah M. Shaw in my favorite color!!! GREEN!!!




It's adorable!!

It also includes this fun stuff!!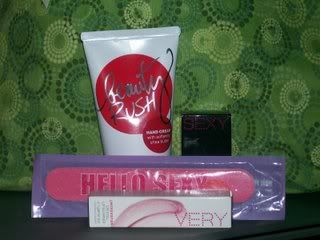 *2.5 fl. oz. Beauty Rush Hand Cream in Juiced Berry
*Very Sexy Nail Laquer in Nibble. It is a very pretty natural pink color and very neutral.
*Very Sexy Limited Edition Crystal Lip Glimmer in Lick. This is light pinkish in color. Will give your lips just a hint of color.
*"Hello Sexy" Nail File.

Oh, yeah.

That's what I'm talking about.

The contest ends tonight!! *gasp*

She'll choose the winner by the random number thingy and let us know!!

Quick, run! Run like the wind!