My poor husband. He thinks I'm cheating on him.



Sad thing is that I am. *hangs head in shame*



But see, you don't understand. This *other* is beautiful.



New.



Fresh.



Picks up after itself.



Scares the children (sadly, my favorite part).

It's my new vacuum.

Remember when I first posted about my wanted new love (here)?

Well then remember when I won (here)?

Well my beautiful new love arrived the week before Christmas.

Oh, it's so wonderful. We dance around the house, cleaning the floor as we go. (scaring the wee one...quite entertaining actually)

*sigh* Here's some wonderful new pictures...

(Please don't mind my new love, we had just finished dancing throughout the living room once the Christmas decorations were put away)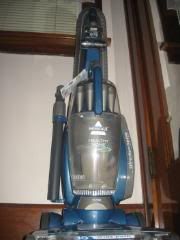 Oh, my wonderful ladies at The Secret's In The Sauce, I thank you so.



*Sigh*