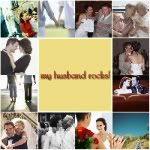 It's that time again. Today it's well needed. Sometimes it's hard to find something to praise about your husband. Especially if it's been a rough day. It's needed and it also helps remind you why you love him, and to be thankful.

That being said. Here's my third session of My Husband Rocks.

Carl is such an awesome dad. We have two wonderful little guys (six and two) who give us a run for our money.

I think Carl's favorite time with the boys is on weekend mornings. We take turns getting up with them, but since I work evenings when Carl gets up I go back for a nap.

It's cool to wake up and they're playing games, reading books, or my favorite is when Owen tells me they went for a bike ride. Carl will just load Cole up on his bike and Owen on his own, and they'll ride up to the convenience shop right up the road.

It's just so cool to watch him be the father he never had. He's an amazing father, as well as my husband.