Well we've had the big boy bed set up for 2 months, but we're starting the switch!

My lovely hubby didn't take down the crib because he wanted to do an easy transition. *snort* NOTHING'S easy with this little gremlin!

Carl decided to put him in his big boy last night without checking to see if the mattress pad was on, if the sheets were washed (they were brand new), or to cut his juice habit off at an earlier time. None of the above were done. *eyeroll*

He was trying, I can't complain too much with him trying!

Fast forward to this morning. I took the older gremlin to school, and the 2 yr old gremlin and I went to the laundrymat to wash all of the comforters.

*taking a 2yr old to a laundrymat- not a smart idea, but surprising he was very good!

Then we came home, made up all the beds, and then I took down the crib.

After lunch came nap time. *gasp* Duh-du-dunnnnnn.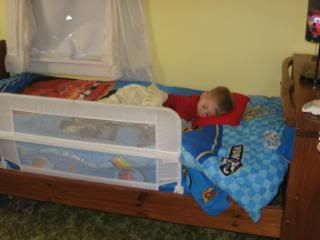 (overlook the holy blind and green shag carpet, that's to be updated later!)

Nap time went fine. He layed in bed for about 30minutes just looking around, then finally fell asleep!

We'll see how tonight goes!