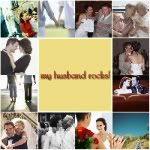 It's another friday!!

Here's why I think my husband rocks.

The other night (2am-ish) the stupid smoke alarm kept chirping. Not a very pleasant sound. I realized that the batteries must have gone out.

So I'm awake. I asked Carl to get up and take the battery out so it wouldn't wake the boys (and so I could sleep!).

At first he said no, and rolled back over. Nice.

Just a reminder, I'm 5'3" (on a good day). There's no way I could find a step stool tall enough for my short behind to get up there! And I wasn't dragging a kitchen chair all the way up to the second floor!!

Then my loving husband out of the kindness of his heart (and the sharpness of my elbow) decided to take the battery out. It's nice to know that I could wake him to do something for me in the middle of the night, and to have him still love me!