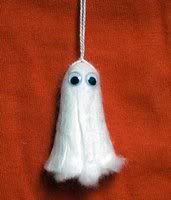 You know it's a sad sick world when you find people making things out of tampons.

Yes, you heard me. Tampons.

I happened to come across this hysterical blog called Glitter Gone Bad.

Glitter Gone Bad posts about crafts gone wrong. It's funny and scary at the same time.

Please, if you're the crafting type, don't use feminine hygiene products as crafts supplies.

That's just really freaking nasty.