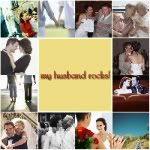 My husband has so much energy, it's hard to believe it. He's such a worker, it's awesome. I work full time (bartending/serving) at nights and he does insurance in the day. We only need a sitter 2 days a week for 2 hours. It works for us.

I don't have any energy at all. I'm home with the boys during the day and I work at night, getting home about midnight. Then it starts all over. I get the main essentials done around here, dishes, laundry, vacuuming (can't spell either), and dusting. He does whatever I don't get done! Yesterday he took a half day and came home with tiles, and stuff for the bathroom.

Our bathroom is hideous. Everything is pink. The toilet, sink, tub, carpet, and the wallpaper is pink floral. Klassy, I know.

So he pulled up the carpet last night and started putting tile down! (the adhesive kind for now)
He's so awesome at starting things. I love him for being as helpful and wonderful as he is.