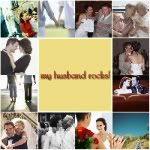 I'm now taking part of "My husband rocks" fridays!

I was having a very rough couple days, (complete with pity parties and everything)and this is what he responded to my craziness:

First off I love you. I think we are made for each other. We have a great family. I don't think your nuts I think you have so much to do it is very hard not to be stressed out. With having 2 kids with you at all times and working as much as you do I would feel crazy to. As for getting in shape I feel you can do it. We need to start small and go from there. You are beautiful and we need to start doing the little things alot more. We have so much going on it is hard to do that but I will try my best. We can do any thing together if we try. I cant wait to see what we do in the next 50 years. If you haven't killed me first. So I think we just need to start something together no mater what it is, lets just do it. I think we can take some of this money and go to the beach with are friends we need a VACATION, so lets make it work. I love you very much. Oh, by the way I didn't chose you, it was meant to be.

This is why I love him. He keeps me sane. He's such a wonderful man, husband, and father.